The announcement of the College Football Playoff Rankings last night leaves many Oklahoma fans wondering the same question:  What will it take to make it into the committee's Top 4?
Based off of the penultimate rankings, the committee still favors the Utes of Utah over the Sooners, with Utah being ranked 5th and OU coming in just behind at 6th (as seen below):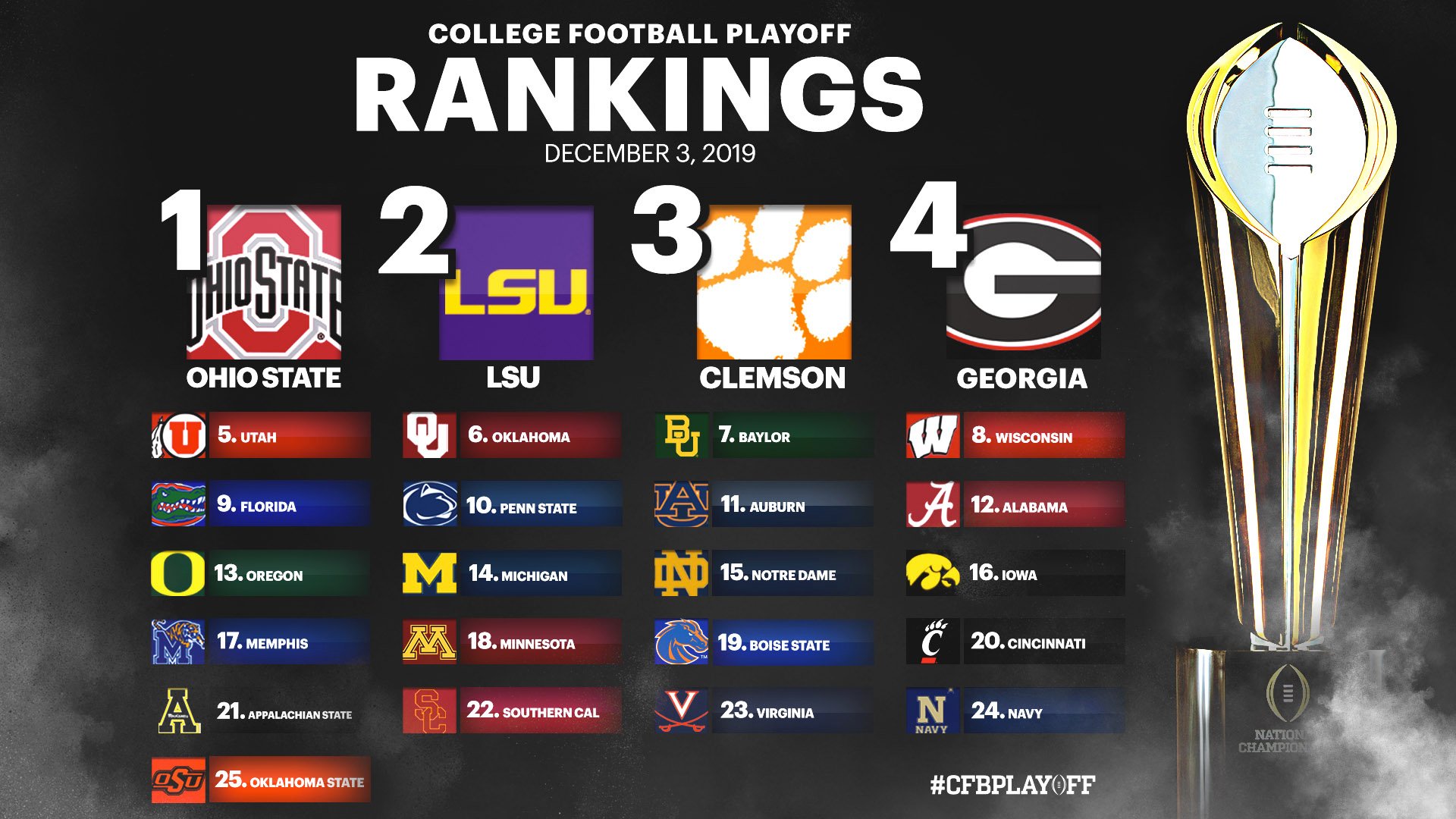 When comparing resumes between Utah and Oklahoma, both have taken different roads to approach the same goal.  For the Utes, winning 10 of your 11 games by more than three touchdowns definitely doesn't hurt.  For Oklahoma, two wins against teams currently ranked in the Top 25 (OSU and Baylor) and potentially a 3rd looming as well, leaves little doubt about their strength as a team.
Although both have been solid, they are not without some doubt.  The issue with Utah?  Not a single win over ANYONE currently ranked in the Top 25.  In fact, Utah doesn't own a win over a single team with a record better than 7-5 this fall AND lost to the best team they've played thus far (7pt loss @ #22 USC).
How about Oklahoma?  Despite the Sooners having more quality wins, OU didn't look great in some of the wins they do have.  After their road loss to K-State, Oklahoma proceeded to look mediocre against Iowa State (blew a big lead late), Baylor (down 28-3 at one point), and TCU in three consecutive weeks.
Now what can this mean heading into this weekend's slate of games?  Potentially, and probably, it may come down to the one thing coaches hate:
Style Points.
How good each team looks in their respective conference championship game may be the biggest determining factor into who gets the nod into the Final 4.  The opponent for each will certainly present issues.  Without a doubt, Utah will face its toughest test of the season when it plays #13 Oregon in the Pac-12 title game.  Not only are the Ducks 10-2 this season, but their offense is scoring 36 points per game AND throttled the same USC team Utah fell to in impressive fashion (56-24 @ USC).
The benefit for Oklahoma this weekend is simple:  They have seen AND beaten #7 Baylor before.  When the two line up for the Big 12 Championship game, Oklahoma will be a 9 point favorite and will have the blueprint set for how to get the best of the Bears for the 2nd time in a row.  What Oklahoma must avoid this weekend is another slow start against Baylor, who also may have a slim chance at the Top 4 if things swing in their favor.  Both sides having motivation to win this game may keep it more level than what Oklahoma would like, yet another factor the Sooners must overcome.
Even with all of this, the one fly in the ointment for both teams could be the SEC Championship game between #2 LSU and #4 Georgia.  Both Utah and Oklahoma would prefer a win by LSU, and a BIG one at that:  This would ensure one of the two slides into #4, so long as each takes care of their own business.  The one scenario that may close the door on both, however, is if Georgia upsets LSU in a close game.  With LSU's resume to this point, a close loss in their title game may not be enough to bounce them out of the playoff, spelling doom for Oklahoma.
No matter how this weekend plays out and how the Final 4 may look next week, the season for the Sooners is still one that fans can be proud of.  A potential conference championship is step #1 in the process of pleading your case to the CFP committee.
The chaos will take care of the rest.